Your daily trend radar - innovative startups, emerging trends and business ideas you don't want to miss out. Sign-up and always be ahead.
Good morning! Happy Friday 🥳! We read somewhere that using Emojis challenges increase user engagement, so here you: 🐺🗽💰. You'll find the answer at the end.
Markets at close
| Markets | % Chg | Mar 04 | |
| --- | --- | --- | --- |
| NASDAQ | -2.11% | 12,723.47 | Points |
| EuroStoxx 50 | -0.21% | 3,704.85 | Points |
| Shanghei | -2.05% | 3,503.49 | Points |
| Bitcoin | -3.25% | 49,394.785 | USD |
| ETH | -0.84% | 1,583.01 | USD |
| LTC | -3.12% | 186.46 | USD |
US markets are down despite the news of a potential rapid vaccination of the US population before the summer. However, concerns about further increases of the interest rates prevail and drag down the NASDAQ around 2% while European stocks close almost unchanged.
Funding stats of the day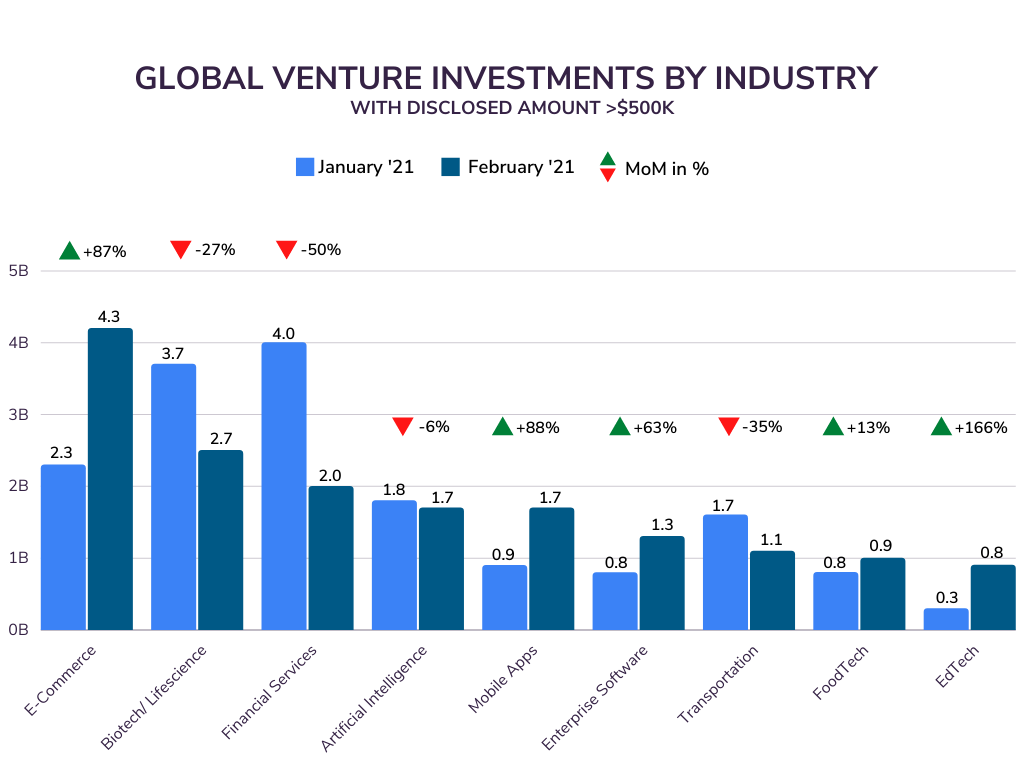 Source: gifer.com
We looked at the global Venture Capital investments stats for January and February across industries.
Here is what we found: Online shopping is also booming for Venture Capital. With an increase of 87% month-over-month, E-Commerce reached a record month with a total of $4.3B invested. Interestingly, also EdTech has gained a sharp increase of 166% following increased interest in remote education solutions.
Startups of the day
♾️ Photomath, San Mateo (USA)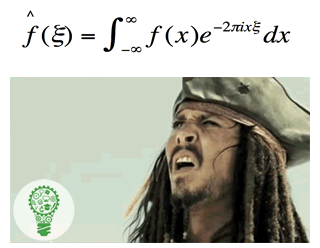 Source: gifer.com
If you have a teenager at home, this startup will definitely save you some headache…
San Mateo based startup Photomath, primarily popular among teenagers between 12 - 20 years old, makes math easy to understand via its mobile AR calculator. You simply point the phone camera at a math problem on the whiteboard or your notepad and the App will show you the solution immediately!
If you think this is only for lazy students, there are other use cases for the App: You can for example scan a math equation and it will draw a graph on your screen.
Why it matters: The San Mateo based firm is ranking one place higher than Tinder on the Apple App Store, which is not the only interesting fact about it. Bridging the gap between the physical and digital world is a well known problem in many industries.

With Photomath you can simply grab your pen, draw on a board and the app will help you solve the equation with its own text recognition technology.

Our Take: Photomath built a consumer success with technology that could be relevant for many other under-digitized industries. The startup could explore new business models such as licencing their existing technology to other companies. Maybe to finally digitize bureaucracy…? For this expansion, Photomath has now raised $23M in a Series B funding round.
🚜 Sensonomic, Bergen (Norway)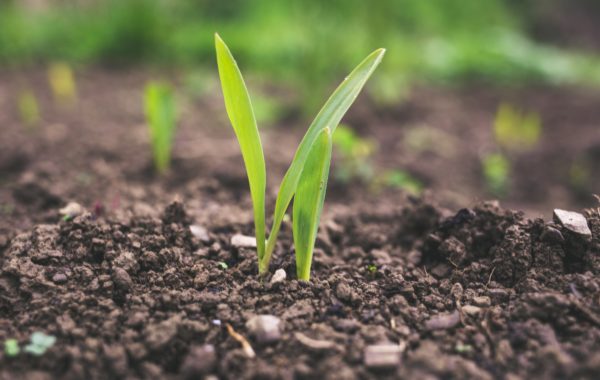 Source: Twitter
Norway based Sensonomic recently emerged from stealth mode with seed funding of 600k USD. The company offers software solutions for operational farming companies to help them in harvest planning, in harvest yield prediction and to control and to coordinate harvest transportation between fields and mills.
In addition, the software can deliver actionable insights to investors and owners of farming companies, allowing them to get detailed and live operational insights as well as current and future cash flow predictions.
Why it matters: The current state of farming is quite static, meaning that the process of growing and harvesting is limited to a small number of decision variables (e.g. location, fertilizer etc.) based on previous harvest seasons.

Sensonomic takes the opposite approach by applying an adaptive agriculture strategy with the help of live data such as weather, soil sensors and satellite feeds. This means that agricultural organisations and their owners can adapt operations immediately to changing conditions for efficient, profitable, and sustainable farming.

Our Take: We love the application of real time data analytics and optimization strategies to the very traditional agricultural industry. This allows for higher yields and cost reductions, which in return will create a win - win situation for both producers & consumers.

It would be great though to see those applications also be available for smaller farmers as well!
Get smarter in just
3 minutes
Your trend radar - innovative startups, emerging trends and business ideas you don't want to miss out. Sign-up and always be ahead.