Your daily trend radar - innovative startups, emerging trends and business ideas you don't want to miss out. Sign-up and always be ahead.
Good morning! Today is Tuesday, March 9th. 11 days before we finally enter spring time. Nice. 🌱
Markets at close
| Markets | % Chg | Mar 08 | |
| --- | --- | --- | --- |
| NASDAQ | -2.41% | 12,609.16 | Points |
| EuroStoxx 50 | 2.65% | 3,766.93 | Points |
| Shanghei | -2.3% | 3,421.1 | Points |
| Bitcoin | 1.18% | 50,999.665 | USD |
| ETH | 5.94% | 1,764.501 | USD |
| LTC | -0.32% | 187.02 | USD |
European stocks close higher while US tech stocks as well as the chinese stock index continue their plunge. Ethereum prices are up with Deutsche Borse's Xetra announcing to list two Ether ETPs (Exchange Traded Products) on Tuesday, stating that crypto ETFs are unlikely to come soon due to EU regulations.
Funding stats of the day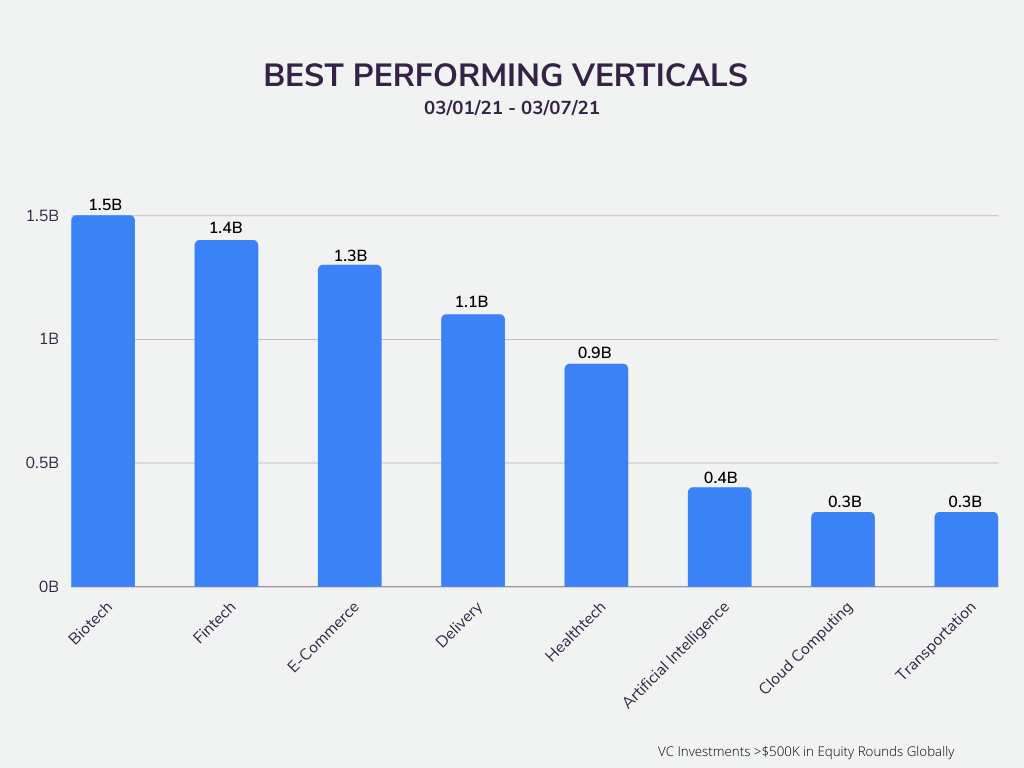 We looked at the global Venture Capital investments stats for the first week in March.
Here is what we found: Biotech is leading, followed by Fintech. Specifically, with Stockholm-based Klarna's mammoth $1billion funding round, financial services received a lot of attention this week. Besides several large E-Commerce rounds such as the one from Vestiaire Collective from Paris, several delivery startups have received attention. Among them are Rohlik from Czech Republic as well as Sicepat Express in Indonesia.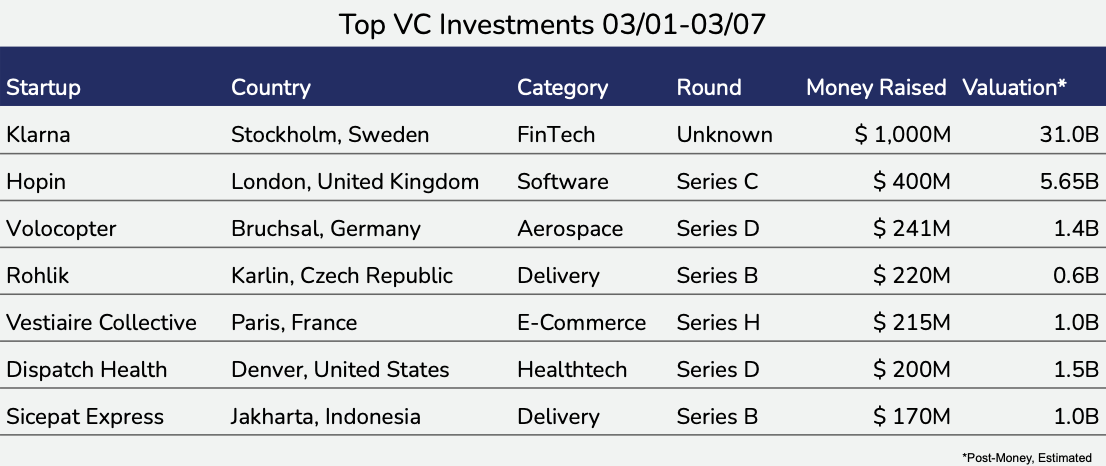 Startups of the day
Globacap, London (U.K.)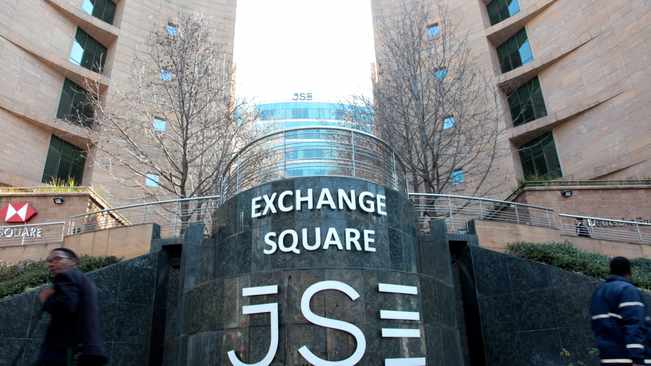 Source: Twitter
Globacap chooses an unusual way of expansion, following a recent funding round.
What's the deal: The London based startup Globacap provides equity management software for startups, utilizing blockchain for data protection and cost efficiency. Starting at only $30, startups can manage their cap table, ESOPs, share transfers and much more.
Now, you may think that there are plenty of solutions out there, which are able to do that and you are right! To only mention one, the San Francisco based firm Carta with over 500 employees and $620M in funding is leading the pack.
Why it matters: Globacap stands out of the crowd, not only because of their transparent and disruptive pricing model, but also due to their expansion strategy.
While competition around Carta, Pulley and Ledgy focuses on horizontal product expansions and intelligent customer acquisition, Globacap leverages their software to enable capital raising for SMEs and infrastructure projects in Africa.
This strategy follows a recent investment from Johannesburg Stock (JSE) exchange in a $9M Series A round, which facilitates collaboration between JSE and Globacap within two private placement platforms in Africa with the goal of making these as efficient as public markets.
Our Take: Globacaps decision to expand its software to Africa is an unusual way for an European high growth software startup. However, we see this as a super smart move to transform the under-digitized but fast-growing financial sector in Africa.
We like that Globacap ask themselves how they can make use of their existing technology to automate other parts of private capital markets instead of using VC money to just compete in AdWord price wars with other providers around the globe. Integrating blockchain technology to make its platform cost-efficient, transparent and secure also shows their vision of innovating private equity markets.
Get smarter in just
3 minutes
Your trend radar - innovative startups, emerging trends and business ideas you don't want to miss out. Sign-up and always be ahead.