Your daily trend radar - innovative startups, emerging trends and business ideas you don't want to miss out. Sign-up and always be ahead.
Intro
Good morning! Happy Wednesday 🥳!
There was a huge data breach recently at Facebook. You can now check if your personal data was exposed. See below.
Snippets
🧠 Major breakthrough: For the first time, scientists have managed to connect the human brain wirelessly to a computer – a potential breakthrough for individuals suffering from paralysis. It marks the latest advance in the rapidly growing field of neural interface technologies, which has attracted the likes of Facebook and Elon Musk. Deep Dive here →
😷 The next generation of masks: The US government will pay you up to $500K for the design of a less annoying face mask. The challenge was created to address some of the common complaints such as fogged-up glasses, skin irritation, lack of comfort, and the danger of letting Covid-19 particles in through the sides. Deep Dive here →
👀 Data breach: By now, you must have heard of the huge Facebook data breach, in which around 533M Facebook users' data was leaked online. You must be wondering how to check whether you're part of the breach. There are various sites where you can find out whether your data has been compromised. You can check whether your data was compromised Right here →
Startup of the Day
Better Health, San Francisco (USA)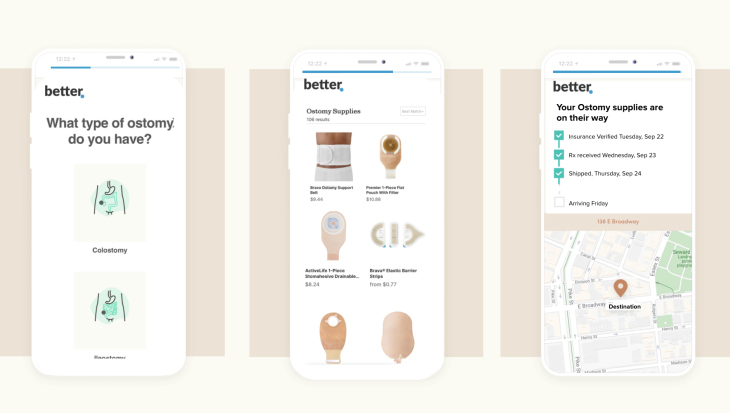 Source: Better Health
What's the deal: The home medical supply market is growing exponentially, but customers' experience with getting much-needed medical supplies, especially for chronic diseases, is terrible. The process of choosing the right product and accessing it is quite challenging and costly for individuals.
Better Health aims to change that by offering a platform where customers get end-to-end solutions for their medical supply needs, from member education and clinical consultation to insurance management and home delivery.
By the numbers: Better Health has raised $3.5M in a new seed round, and plans to expand its services to meet members' needs; currently, it serves patients with ostomies or chronic urological conditions only.
Why does it matter: Unlike the prescription drug market, where you choose a brand name or the generic and receive pretty much the same result, the medical supplies solution you choose can have a significant impact on your experience. Better Health helps in this situation as it offers advisors who give one-to-one coaching regarding the equipment selection and product use.
The startup also assists with the medical insurance, managing paperwork, costs, and even in getting a claim for specific equipment approved. Founded by a team of healthcare and technology veterans, Better Health aims to simplify the journey to receiving care at home by digitizing and modernizing the outdated medical supply industry.
Our take: Medical supplies and equipment account for a high proportion of health care costs, significantly affecting the quality of care. Better Health improves the lives of patients who use medical supplies, by offering them the best products in a cost-effective, timely, and stress-free manner.
Get smarter in just
3 minutes
Your trend radar - innovative startups, emerging trends and business ideas you don't want to miss out. Sign-up and always be ahead.