Your daily trend radar - innovative startups, emerging trends and business ideas you don't want to miss out. Sign-up and always be ahead.
Intro
Good morning and Happy Tuesday! 🥳🥳
Part #2 of our crypto world series is on today! Be sure to catch-up with the last one here → if you are new to the show.
Tech Snippets
🌍 Time-lapse in Google Earth: Have you ever wondered how the Earth has changed over the last few decades? Timelapse, Google's newest feature, is an eye-opening technical feat that provides visual evidence of how the Earth has changed as a result of human behavior and climate change. It allows users to scroll through time by using millions of satellite images from the past. But beware, some developments, especially in Brazil, can be quite depressing… Deep Dive here →
🍎 No more rotten tomatoes: Amazon has launched a machine vision technology that detects flaws in fruits and vegetables, to make online grocery shopping easier for its customers. The machine learning-based approach generates images that can be used to detect cuts, cracks, and pressure damage. Deep Dive here →
🤖 Soft robots: While hard exoskeleton-armored robots are common, they are not always ideal. University of California researchers have developed a soft robot that can extend its tip and change direction without moving its body. Such robots perform well in confined spaces, such as clearing artery blockages or tunneling through debris in search and rescue operations. Fascinating watch! Deep Dive Here
Micro Knowledge
What are cryptocurrencies?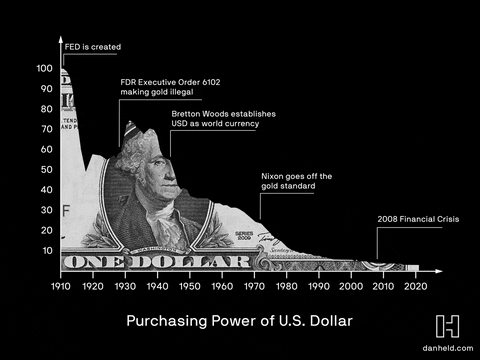 Source: giphy.com
What is it?
Cryptocurrency is a type of online payment that can be used to purchase and sell goods and services. Many businesses have created their own currencies, known as tokens, which can be exchanged for goods or services from the business.
Think of them as arcade tokens or casino chips. To use the product or service, you must first convert real money into cryptocurrency.
How many cryptocurrencies are there?
According to CoinMarketCap.com, a market analysis website, over 6,700 different cryptocurrencies are publicly traded. And cryptocurrencies' popularity is growing, with initial coin offerings, or ICOs, being used to raise funds.
On April 13, 2021, the total value of all cryptocurrencies was, according to CoinMarketCap, more than $2.2 trillion, and the total value of all bitcoins, the most common digital currency, was around $1.2 trillion.
Why are they popular?
Cryptocurrency supporters love them for many different reasons. Here are a few of the most well-known:
Supporters see cryptocurrencies like Bitcoin as the money of the future, and they're rushing to purchase them before they become more expensive.
Some supporters like that cryptocurrencies free central banks from controlling the money supply, since central banks tend to devalue money over time via inflation.
Other people support the blockchain technology that underpins cryptocurrencies, because it is a decentralized processing and storage mechanism that is potentially safer than conventional payment systems.
Some speculators are only interested in cryptocurrencies because they are volatile and can increase in value. However, those investors are uninterested in the currencies' long-term acceptance as a means of money transfer.
Are cryptocurrencies a good investment?
Cryptocurrencies may appreciate, but many investors regard them as speculative investments rather than long-term investments. Why? Cryptocurrencies, like real currencies, have no cash flow, so for you to benefit, someone else must pay more for the coin than you did.
This kind of speculation is known as the 'greater fool' investing principle. In contrast, a well-managed company grows in value over time by increasing profitability and cash flow.
Are they legal?
They are, without a doubt, legal in the United States, while China has effectively prohibited their use. Whether they are legal in other countries is ultimately a matter of national sovereignty.
How to get them?
There are now quite a few online brokers, which make it easy to buy crypto. Coinbase and Börse Stuttgart Digital Exchange are just a couple of examples, which are considered safe and user friendly.
Get smarter in just
3 minutes
Your trend radar - innovative startups, emerging trends and business ideas you don't want to miss out. Sign-up and always be ahead.