Your daily trend radar - innovative startups, emerging trends and business ideas you don't want to miss out. Sign-up and always be ahead.
Intro
Good morning and happy Friday! 😎
When a freighter became stranded in the Suez Canal last month, many worried about global supply chains. Meanwhile, a major chip crisis has been unfolding, more or less off the radar.
Today's update has 487 words, 2.4 minutes
Snippets
Unlike on other days, we focus on Crypto for our snippets below.
🚓 Surgical strike against cryptojacking: As the cryptocurrency craze grows in popularity, anyone looking to make a quick buck could easily become a victim of shady con artists and hackers. To keep you safe, Intel and Microsoft have teamed up to develop new technologies to improve cryptojacking detection. Deep Dive here →
🐶 Musk pumping Dogecoin: Elon Musk is the only person who can consistently influence the market with tweets. After Elon Musk's five-word tweet, the meme-based Dogecoin has grown by 330 percent in a week. Musk's previous Dogecoin tweets have skyrocketed the shiba inu-themed coin, which is similar to Bitcoin. Deep Dive here →
💸 Ethereum on the rise: Like Bitcoin, Ethereum is starting to attract institutional investors and whales (= crypto term for individuals or entities who hold large amounts of cryptocurrency). It has reached its all-time-high value of $2,740. Deep Dive here →
Topic of the Day
Chip shortage hits many industries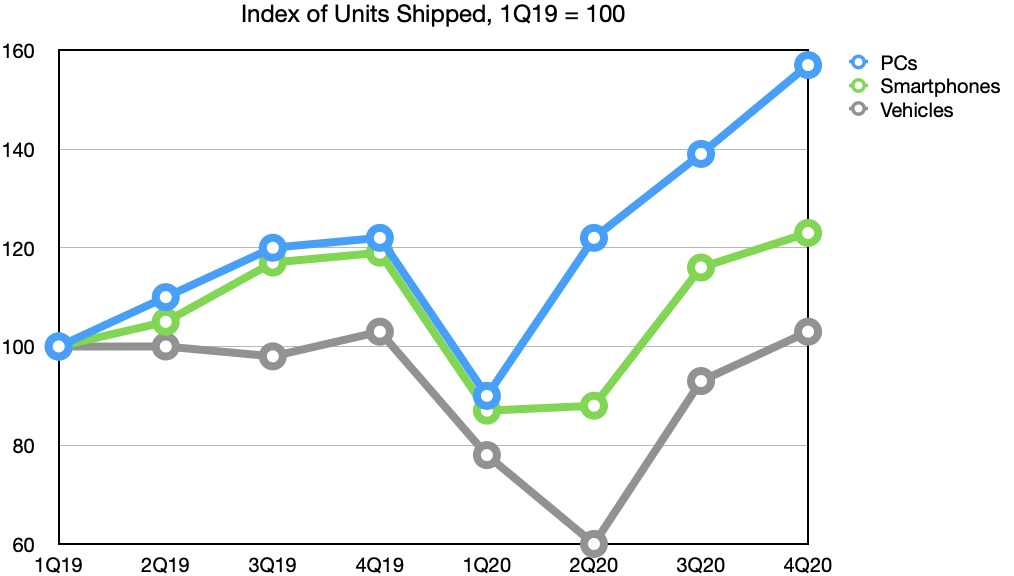 Source: Shoto Analytics
What's going on: There is a global shortage of chips. You know, those things that make your computer do magic tricks.
But it's not only computers. Consumers and companies are suffering the impact of a worldwide semiconductor microchip crisis, which ranges from delayed vehicle delivery to a shortage of home appliances, smartphones, and PCs.
The shortages have wreaked havoc, especially on car giants like Ford, Honda, Nissan, and others, forcing them to pause manufacturing.
What happened: When COVID hit last spring, car companies canceled their orders due to the sharp fall in demand. Thus, chip manufacturers shifted to industries with greater demand, and the automakers couldn't reclaim their canceled orders once demand began to increase again (see graph).
At the same time, lockdowns fueled the demand for computers and other devices as people shifted to home working.
Investments in tech-heavy electric cars, the boom in sales of home electronics, the launch of new game consoles, and 5G-enabled mobile phones led to mushrooming in demand.
So what's next: Dollars start rolling in. TSMC, the world's largest semiconductor foundry, expects to spend $100 billion in capacity expansion over the next five years. US President Joe Biden has sought $37 billion in funds to support the country's chip production. In addition, Intel Corp, TSMC, and Samsung have announced the formation of four new firms in the United States.
The bottom-line: The chip shortage is expected to last for some time, and businesses will continue to suffer from the knock-on impact. The chipmaker market is also shifting as geopolitical problems between the US and China worsen. The automobile industry has taken the brunt of the blow, and this is expected to continue for at least another year.
Our take: For most car manufacturers, chip producers were formerly the only vendors that were not bound by the tight-knit world of just-in-time production. Computer chips were treated as commodities with no risk of shortage. This contractual condition is almost certainly going to change. It remains to be seen how much leverage the automobile industry can wield.
Get smarter in just
3 minutes
Your trend radar - innovative startups, emerging trends and business ideas you don't want to miss out. Sign-up and always be ahead.