Your daily trend radar - innovative startups, emerging trends and business ideas you don't want to miss out. Sign-up and always be ahead.
Intro
Good morning. 👋
Want sound business intelligence to be available across your entire organization but don't have the budget to hire data engineers? Today's start-up offers a no-code tool which turns all your key staff into data scientists. Check it out!
Today's update is 702 words, 3.5 minutes.
1 Big Thing
"When we win a Golden Globe, it helps us sell more shoes."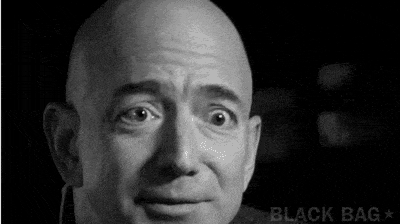 Source: Black Bag
Amazon announced yesterday that it was purchasing Metro-Goldwyn-Mayer (MGM), the fabled U.S. film studio and home of the James Bond franchise, for $8.4B. The deal is intended to help Amazon boost its Prime Video service.
Quick facts:
It is Amazon's second-largest acquisition after the Whole Food Market, purchased in 2017 for $13.7B;
According to Reuters, the price is about 37 times that of MGM's estimated EBITDA 2021.
The bigger picture: The growing number of streaming platforms is driving a 'war on content.' Disney and Apple have joined the club recently, adding new options for customers and, at the same time, pulling content from other platforms.
For Amazon, the acquisition can be viewed as implementing the strategy Jeff Bezos articulated in 2016: "When we win a Golden Globe, it helps us sell more shoes."
Zoom-out: In the 1930s and 1940s, films were shown at dedicated studio cinemas. If you wanted to see a Paramount studio movie, for example, you had to go to the Paramount cinema. Today, if you want to see an Apple show, you need Apple's TV+ service.
Bottom-line: The acquisition will add more fuel to the 'war on content' with the other streaming platforms. We will probably see more deals like this in the future, especially since tech giants have very deep pockets.
How will this affect consumers and consumption patterns? We can't know yet, but a couple of trends are amplifying:
The separation of content ownership and platforms will continue;
Consumers will have to pay for a number of platforms if they want to enjoy a wide range of content;
This might lead to an increase in illegal piracy; after all purchasing many services is not something everybody can afford or will want to pay for.
Snippets
👀 Sued again: After being charged in the EU, Amazon has now been sued by Washington DC on antitrust grounds. Deep Dive here →
💥 Crypto Mining Ban: Iran has banned bitcoin mining for four months due to avoid power outages during summer. Deep Dive here →
🛒 Shopify for Cybercriminals: A Russian national was sentenced to 2.5 years in prison for running a web store for stolen data and accounts. Deep Dive here →
🤳🏻 Coding on Phones: This young man is offering young Nigerians free lessons in coding using smartphones. Deep Dive here →
Inspirational: 9 Confessions From a Failed Startup CEO. Deep Dive here →
Startup of the Day
y42, Berlin (Germany)

Source: y42
Summary: y42 is a no-code platform for connecting, loading, cleaning, visualizing, and sharing data.
What's the deal: If you're a business with only limited resources to hire/outsource a data scientist or use expensive tools like Tableau and Alteryx, y42 offers a platform to move the power of innovation into the hands of your entire organization.
y42 runs on top of your data warehouse and allows users to combine hundreds of data sources and establish an accessible data structure without any coding. Users can connect hundreds of data sources simultaneously within a drag & drop functionality.
y42 has collaborated with customers like Petlab and LifeMD in the USA and Everdrop in Europe. It has raised $2.9M in seed funding and intends to use the funds to expand its product development and go-to-market strategy.
Why it matters: Key employees in any organization should be capable of data engineering, without needing to be a code ninja or AI wizard. y42 offers a tool to turn everyone into a data scientist, allowing teams of all sizes and backgrounds to take advantage of the platform.
Given the low-code/no-code nature of the tool, y42 allows users to create complicated queries pretty quickly. The platform has more than 100 data integrations out of the box, and runs on top of your own data warehouse or structure. This way your data is always safe.
Our take: The data volumes available in today's business environment are increasing exponentially and the requirement for state-of-the-art, in-house data science is massive. y42's focus on UX and ease of use have the potential to empower more employees to actively use data intelligence in their day-to-day business decision-making process.
But, the data science space is super competitive with strong players such as Google and Tableau.
Get smarter in just
3 minutes
Your trend radar - innovative startups, emerging trends and business ideas you don't want to miss out. Sign-up and always be ahead.