Your daily trend radar - innovative startups, emerging trends and business ideas you don't want to miss out. Sign-up and always be ahead.
Intro
Good morning and welcome to the future 👋
A welcome to all new subscribers that joined last week: we're glad to have you on board!
Today is the longest day of the year and the first day of summer in the Northern Hemisphere. ☀️ For readers in the Southern Hemisphere: At least days are getting longer from today on!
The startup for today: Adionics. The time needed to purify and concentrate the lithium used in the batteries, is a huge stumbling block that will, as demand for electric vehicles increases, ultimately lead to supply shortages. A French startup has developed an innovative solution that could be a game changer.
Today's update is 322 words, just 1.6 minutes.
Snippets
🐄 Cultivated meat: An interesting deep-dive by McKinsey and Co. on where things stand with artificial meats and what to expect in the future. Dive Deeper →
📡 Biosignatures detector: The phrase "Scan the planet for life signals!" is a Star Trek staple. Scientists have taken a huge step toward making this a reality by creating a device that can distinguish between biological and non-biological objects from a distance of many kilometers. Dive Deeper →
🔫 Anti-drone weaponry: Belgian security forces protect a meeting between US President Joe Biden and King Philippe with a mix of handheld anti-drone weapons. Dive Deeper →
Startup of the day
Adionics, France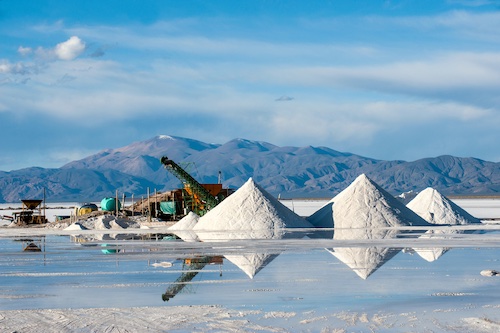 Source: nsenergybusiness
What's the deal: A French company founded back in 2012, Adionics is a powerful player in the extraction of lithium, a highly coveted mineral worldwide. The company offers highly efficient and economical lithium extraction with reduced environmental impacts.
Funding: €7M in total seed funding in June 2021.
Why it matters: As we advance towards a reduction in carbon emissions, demand for lithium-ion batteries for electric vehicles, computers, smartphones, and storing renewable energy is escalating. At this pace, the market is likely to witness a shortfall as demand for the metal is expected to increase fourfold over the next five years.
Using traditional methods, it takes 9-15 months to purify and concentrate lithium. Adionics has reduced this time to less than an hour, doubled the recovery rate, and also prevented water evaporation.
Our take: With the transition to clean energy and the boom in electric vehicles, interest in lithium mining companies will continue to grow. To conquer the new market, Adionics is relying on cost effectiveness — it pitches at less than 40% of the market price.
But, it has to scale up to compete against big names like Tenova, Tianqi, and Lilac, which have strong backers such as the Gates Foundation.
Get smarter in just
3 minutes
Your trend radar - innovative startups, emerging trends and business ideas you don't want to miss out. Sign-up and always be ahead.