Your daily trend radar - innovative startups, emerging trends and business ideas you don't want to miss out. Sign-up and always be ahead.
Intro
Good morning and welcome to the future 👋
Last week, we ran a somewhat downbeat news item about the Clubhouse app. However, we have since conducted our own research, and believe that, although the jury is still out when it comes to this once-rising social media star, there is good cause for optimism.
Have a great weekend!
Today's update is 441 words, 2.2 minutes.
Snippets
🧑‍🦳 Science: Studies show that stress can indeed cause hair to turn gray. But thankfully, it's also reversible. Dive Deeper →
⚛️ Fusion power: Helion Energy is the first private company to achieve a 100M degree Celsius fusion fuel temperature, paving the way for a commercial plant to be zero-carbon and cost-effective. Dive Deeper →
💼 Working in a box: Imagine choosing your work location on a daily basis, according to business needs and your mood. These soundproof pods allow you to work effectively in a multitude of public spaces, including cafés and shopping malls. Dive Deeper →
Startup of the day
Is Clubhouse already a dead horse?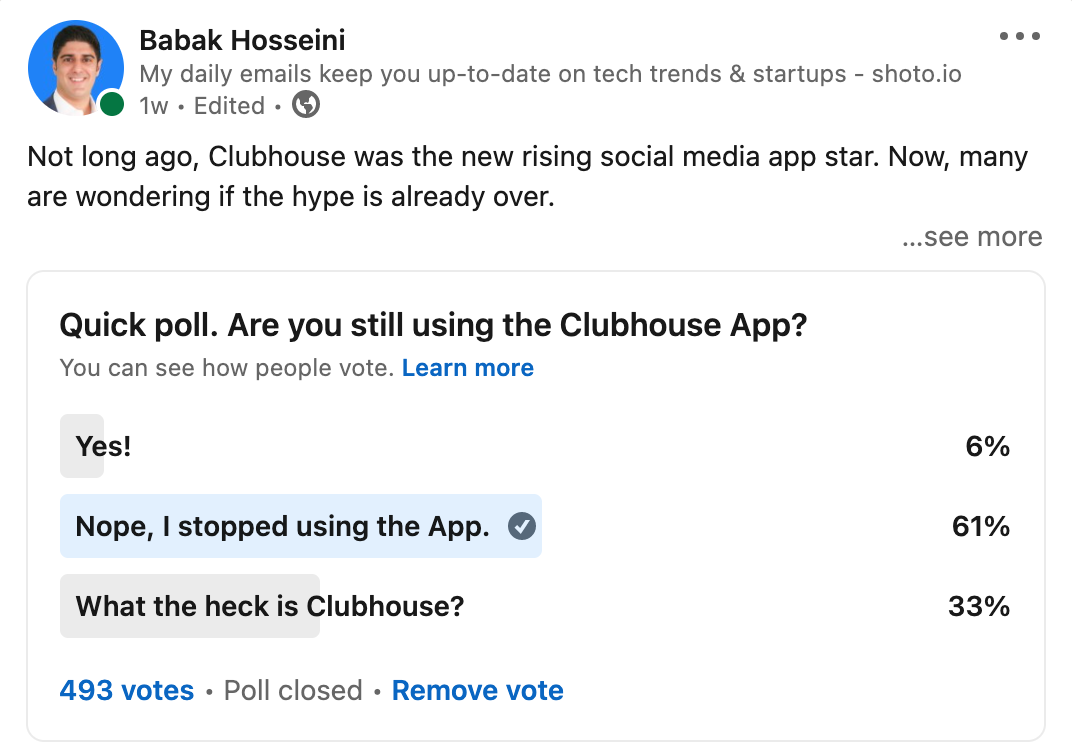 Source: LinkedIn
Following our news item last week, we wanted to shed some more light on how things stand with Clubhouse.
Since there is no real data on how engagement is developing, we decided to start a poll on LinkedIn. You can see the results above.
493 people participated, of which only 6% said that they are still using the app. Now, that's of course not a fully representative study, but it gives a clear indication of where things stand with Clubhouse.
Why it matters: During the pandemic, when people were mostly at home and bored, Clubhouse started a big buzz on 'audio-only' social networks.
Many other social media players, including Twitter and Facebook, followed suit and developed their own audio features.
Zoom-out: Clubhouse went viral with a selective, invitation-only membership model. This led to massive, uncontrolled growth.
Neither its servers nor its features, let alone its company scale and strategy, could keep up with the pace.
Clubhouse went from the initial phase of a startup to a pre-IPO startup in just weeks — a journey that usually takes anything from 5 to 10 years.
Bottom-line: Network effects mean there is usually a clear leader in any social-media category: Pictures - Instagram; Long videos - YouTube; Short videos - TikTok; Text - Twitter.
Clubhouse had its initial moment of fame and burned many users, mainly due to missing discovery features and annoying notifications. But, all is not lost for Clubhouse at this stage:
It has a very loyal base of core users who are still very active on the platform
Those active users spend almost 60 minutes per day on Clubhouse!
Clubhouse is very well funded and, apart from going viral, has done no marketing so far
The startup is about to introduce a variety of creator and monetization features, which will help bring influencers to its platform.
Our Take: We believe Clubhouse has still a very good chance to establish itself as a leader in the 'audio-only' category. But first, it needs to get its product and technical issues under control and start rolling out its marketing activities.
PS: We are currently running a new poll on cryptocurrencies. Feel free to vote here →.
Get smarter in just
3 minutes
Your trend radar - innovative startups, emerging trends and business ideas you don't want to miss out. Sign-up and always be ahead.