Your daily trend radar - innovative startups, emerging trends and business ideas you don't want to miss out. Sign-up and always be ahead.
Intro
Good morning and welcome to the future 👋
Think you couldn't fall victim to a cryptocurrency scam? No doubt those who invested in the Squid Game cryptocurrency thought so too. Unfortunately, that's exactly what happened to them last week, despite some pretty obvious red flags …
Today's update is 406 words, 2.0 minute
Snippets
🚗 Teslas for rent … or not?: Elon Musk has denied the claims that a contract has been signed with Hertz for 100,000 Tesla Model 3's, which saw the company's value rocket to over $1T last week. If a contract does materialize, it will be the biggest-ever rental car order for electric vehicles. BBC →
🔍 Zoom in on ads: Users accessing Zoom's free Basic service via web browser could soon see ads at the end of their meetings. The company's aim is to generate enough revenue to ensure the free Basic service can continue. PC Mag →
🤝 Are you a good team player? It's a valued characteristic in business and leisure, but what does it actually mean? Competence? Good communication skills? The results of this study by Binghamton University's School of Management may surprise you. University Binghamton →
🎮 Gaming with Netflix: It's here! Gaming content for Android is finally available on the Netflix app. With just five titles, the initial selection is pretty limited, but with Oxenfree developer Night School Studio onboard, a bigger range of exciting games is sure to follow. iOS users have to be patient a little while longer. The Verge →
1-Big Thing
A hard lesson in cryptocurrency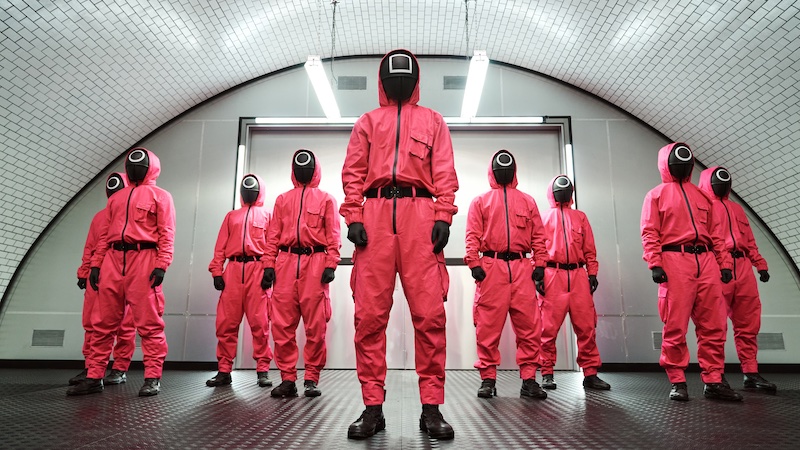 Source: Netflix
What's the deal: Numerous red flags warned that the recently launched Squid Game cryptocurrency was a scam. Nevertheless, much of the mainstream press was taken in, as were many investors.
The creators have now closed the website and made off with over $3.3M. Shortly before plummeting down to $0, the SQUID cryptocurrency reached a high of $2,861.
Why it matters: 'Pump and dump' schemes are common in the investment world. They've become a popular tool in the crypto world for artificially inflating asset prices.
Our take: When investing in crypto coins some caution should be applied. Not putting all your eggs in one basket is an obvious one. Also, be very wary of red flags, which were massively present with the SQUID coin:
A three-week-old website with strange spelling and grammatical errors
SQUID's Telegram channel, set up by unknown scammers, did not allow outsiders to comment
It was also impossible for anyone to respond to posts on the Twitter account
The biggest red flag, however, was the fact that no one who bought the coin was able to sell it.
Inspiration
"Creativity means making things most people hate"
Taylor Foreman
Get smarter in just
3 minutes
Your trend radar - innovative startups, emerging trends and business ideas you don't want to miss out. Sign-up and always be ahead.